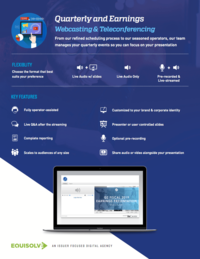 Flexibility
Choose the format that best suits your preference
Live Audio w/ slides
Live Audio Only
Pre-recorded & Live-streamed
Key Features
Fully operator-assisted
Live Q&A after the streaming
Complete reporting
Scales to audiences of any size Live Audio w/ slides
Customized to your brand & corporate identity
Presenter or user-controlled slides
Optional pre-recording
Share audio or video alongside your presentation
Comprehensive, yet Simple
Simply put, Equisolve quarterly/earnings webcasting & teleconferencing service is there to make your life easier. With full operator assistance provided for live and pre-recorded events, we have you covered.
Fully Operator-Assisted
Each participant is personally greeted and placed in the conference
Speakers are professionally guided through the process and options
Speakers are directly connected to the operator throughout the event
Speakers are introduced by operators during the event
Professionally run Q&A including pre-planning
Non-invasive event voting and polling
A lead operator is assigned for the duration of the event
Prepared conference reports.
Dial-In Numbers
Permanent phone numbers for participants and host.
Registration URL
Permanent Registration URL.
Optional Pre-Recording with Live Q&A
Take the stress out of presenting with prepared remarks
Pre-recording streams exactly as if it was a live event
Live Q&A begins after pre-recording finishes streaming
Operator-assisted to manage call notes during the event recording
Compiled & edited recording for your approval.